Hot Toys for 2016
WowWee presents its exciting 2016 line of consumer entertainment robots, gamified drones, Edu bots, and more - Astonishing Imagination for Kids and Adults of all ages!
CHiP (Canine Home Intelligent Pet) is the ultimate AI Robotic Dog. Based on new Mechatronics, the latest in a combination of wireless technology, telecommunications engineering and a suite of advanced sensors, CHiP is truly the latest and greatest in robotic pets. CHiP recognizes his master and responds to commands using the included SmartBand, a sleek, rechargeable wearable controller. CHiP also responds to hand gestures and voice commands. CHiP plays fetch and fun games with his SmartBall, interacting in all the ways a real dog would... Roll his ball and he'll bring it back to you, or play soccer with him. Pick up his front legs and he'll dance with you. Rub your nose against his and he'll nuzzle right back. CHiP can also do yoga moves like downward dog, and if you say, "Hey CHiP – Yoga", he'll do a headstand. After a day of endless fun, CHiP knows it's time to head to its special SmartBed and recharge. With a 360-degree system of play that's physical, digital and tactile, plus an intuitive, evolving app, CHiP is a welcome addition to today's connected home and fun for all ages.
MSRP $199.99 Q4 2016 (8+)
LUMI provides exciting drone action while taking some of the fuss out of flying an indoor quadcopter. LUMI can literally fly itself while you play, direct and command it using the app. With a smartphone or tablet, you can select one-touch stunts, follow-me mode, or simply take control and fly LUMI with ease, while obstacle avoidance technology helps LUMI avoid your walls and furniture. Various single and multi-player game modes include challenging the player to follow sequences of flashing lights while LUMI flies and dances in the air, reacting to your performance! Players can choreograph a series of flight moves and play them back to music selected from their music library and also save and share their programmed airshow with other LUMI users - a magical experience for today's youth-tech culture.

MSRP $79.99 Q4 2016 (8+)

Download LUMI images here
COJI (Coding with Emojis) is the new coding robot pal where STEM (Science, Technology, Engineering and Math) comes together to teach children basic programming skills using the "language" of visual emojis. Early readers and pre-readers will have fun testing their problem-solving skills and playing games with the robot using the free app on a smartphone or tablet to control COJI's actions. COJI also reacts to physical stimulation such as tilting and shaking, with dynamic sounds and thousands of animations on his LCD screen. It's coding and learning fun with a smile(y)!

MSRP $59.99 Q4 2016 (4+)
Meet Coder MiP - the latest version of the friendly balancing robot who responds to hand gestures, carries his own weight, and can be controlled via your smartphone or tablet. Coder MiP is the same size as the original MiP, with a fresh new look featuring red accents and a clear plastic frame to show off his components. The Coder MiP app also provides a new way to play - giving owners control over the actions associated with different sensor triggers. Coder MiP's responses to claps, pokes, hand swipes, and other inputs can be customized using simple drag-and-drop block-based programming language.
MSRP $99.99 Q4 2016 (8+)
Download CODER MiP images here
Elevate your Battlefield with Car vs. Drone Combat: YOU pick a side. Take command of either vehicle with your mobile device and enter the REV Realm, where you'll be hunted by a legion of ruthless computer-controlled A.I. Drivers, or battle against your friends. Engage by controlling a flying quadcopter and battle against an AI ground vehicle, or, conversely be chased in the real world by an AI drone with the capability to attack, fire virtual missiles and swarm at your maneuverable R.E.V. vehicle. A thrilling addition to the award-winning Robotic Enhanced Vehicle battle-game platform, REV Air provides an incredibly unique experience where AI flight is made completely autonomous so you can focus on the thrilling real-world game play!
MSRP $129.99 Q4 2016 (8+)
MiP™ , MiPosaur™ and Robosapien™ - RC Mini Robos editions
Your favorite award-winning robots are now available in mini-sized collectibles. With dual-action driving capabilities and LEDs, RC MINI ROBOS are remote controllable and perfectly sized to take with you anywhere. Get the whole series for pint-sized fun that packs a punch.
MSRP $19.99 Q4 2016 (4+)
Download RC Mini Robos images here
MiP™ and Robosapien™ - Build Up RC Mini Robot editions
Build-Up Mini MiP and Build-Up Mini Robosapien are the perfect building kits for junior engineers, providing a fun, hands-on approach to learning about robotics. Comprising snap fit parts and screws for easy assembly, the Build Up series features miniature editions of the award-winning MiP and Robosapien robots, with a new clear plastic design to show off the components inside. Use the included remote control to drive your creation forward or spin it around.
MSRP $29.99 Q4 2016 (8+)

Download RC Mini Build Up images here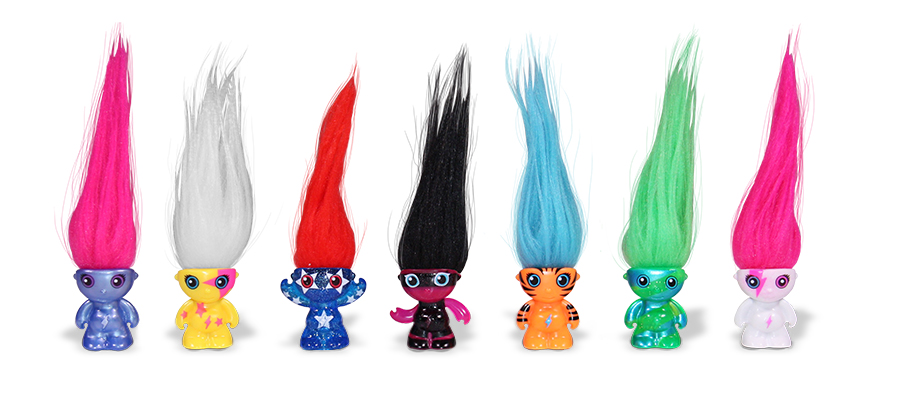 Elektrokideez are the fun new collectible figures styled and dressed in their favorite music genres. Collect and trade all 48 styles, put together a mini poster with the included stickers, or you can even use them as a pencil topper!

MSRP $2.99 each or $9.99 for a 4 pack Q3 2016 (6+)

Download Elektrokideez images here
ABOUT WOWWEE
Founded in 1988, WowWee is a leading designer, developer, marketer and distributor of innovative hi-tech consumer robotic and consumer entertainment products. The introduction of WowWee's RobosapienTM robot in 2004 revolutionized the way people interact with robotic companions. One of the most popular entertainment robots in the world with global sales of more than 6 million units, the Robosapien robot was the first commercially available biomorphic robot – a fusion of technology and personality. MiPTM, released in 2014, continues to be one of the world's most popular consumer robots and the winner of more than 10 major Tech and Toy awards, including the Toy Industry Association's TOTY award for Innovative Toy of the Year in 2015.
With offices in Montreal, San Diego and Hong Kong, WowWee's focus on the development of breakthrough consumer technologies continues to forge new categories in personal robotics and entertainment with its imaginative, innovative, award-winning gadgets and toys. Please visit www.wowwee.com.