NEW FROM WOWWEE FOR HOLIDAY 2015
R.E.V. are Robotic Enhanced Vehicles that are app-enabled and built for speed and battle! REVs think and fight for themselves and are equipped with BeaconSense™ technology, a proprietary indoor GPS system that enables them to sense their surroundings and navigate accordingly. REVs are hardwired to outwit, outplay and outlast YOU, their human opponents. REV does not require a special surface or mat to play on, and up to 12 players can enter the game. Each REV Starter Kit comes with two specially-equipped vehicles; just download the free app onto an iOS or Android smart device and jump into the driver seat, while setting the second REV to Autonomous Mode. Square off against your REV opponent in multiple game modes like Chase and Evade and REV Campaign, but be warned...Artificial Intelligence can be dangerous!
R.E.V. is a Popular Science magazine 2015 Best of New York Toy Fair.
R.E.V Starter Set includes 2 REV vehicles. MSRP $99.99
R.E.V. Smart Ramp accessory sold separately MSRP $39.99
R.E.V Recharge Battery Packs sold separately MSRP $29.99
Available now at Target, Amazon, Toys R Us and additional retailers
The MiPosaur is a highly intelligent robotic creature with an incredible, evolving intelligence and personality. It can sense its own surroundings and environment, and Interact with them in a unique and lifelike way. In addition to featuring GestureSense™ technology that lets you control it with the swipe of your hand, the MiPosaur has sturdy MIP (Mobile Inverted Pendulum, created with the UCSD Coordinated Robotics Lab) balance and comes with an interactive TrackBall equipped with BeaconSense™ technology. With it, the MiPosaur can chase the trackball, play with it, "smell" it, go for a walk, as well as alter its moods depending on the various interactions. The MiPosaur is fully interactive with the MIP ™ robot and a BLE enabled app, compatible with both iOS and Android smart devices, and features exciting and engaging games. MSRP $119.99
Available now at Target, Amazon, Toys R Us, Wal-Mart and additional retailers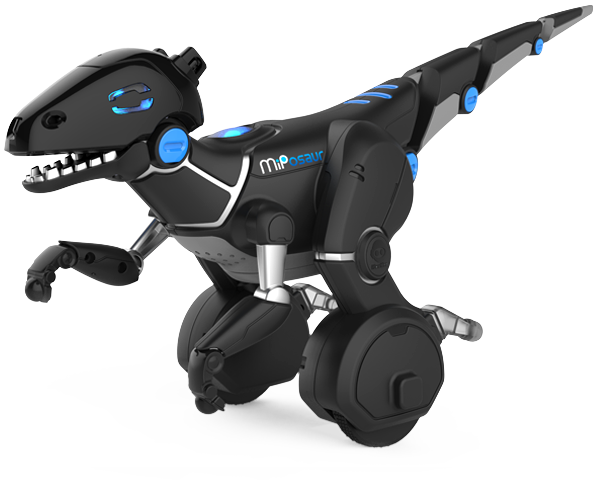 THE FOLLOWING ALSO MAKE GREAT STOCKING STUFFERS!
Snap Pets are your new digital photo friends! A fun and easy-to-use camera which sends photos wireless to a smart device via Bluetooth, and also works as a remote (shutter button) for your phone or smart-device's camera. Using the free mobile app, directly share your photos with friends on social media, you can even add filters, text and more to them, too! Snap Pets takes the ULTIMATE SELFIES and is also great for group photos. Take selfies by simply looking into the lens on the Snap Pet, then press the button on top of the Snap Pet...And you're all set! Compatible with both iOS and Android devices. MSRP $29.99 Available at Target and Toys R Us
The world's smallest Bluetooth speaker, the Groove Cube Shutter packs a big sound, which you can bring anywhere to blast your favorite music straight from your BLE smart device. It comes in multiple colors, and has a mini-USB for recharging and a lanyard for easy-carry. With the Groove Cube Shutter, you can also snap photos remotely on your device using the on/off switch as a remote shutter button. With the built-in microphone, it can be used as a hands-free device to answer your calls! MSRP $14.99
Available now in 5 different colors at Bed Bath & Beyond stores nationwide
Who will you fall in love with? Where will you live? Will you become famous? Look deep into the eyes of the fortune-telling feline to see what the future holds. From interactive M.A.S.H. storytelling games to mysterious answers with a feline twist, the Karma Kitty pounces on the future with predictions that are sure to delight!
Available at Target and Toys R Us stores
MSRP $19.99
For more information, other great tech toys and products please visit